I got a notice from Astrids a few weeks ago intruducing this new Regia yarn. I looks like marbled paper. Quite different from the usual stripes and blobs. Tempted very tempted. Except so often these self patterning yarns don't work out for me. I buy a lot of Opal from Astrid. The shipping is high but the prices are low. And she has a really large selection
Regia Galaxy comes in a lot of colors. Most a bit more tame then this. When I first saw this, I thought BETS!!! It seems to have most of the colors she likes.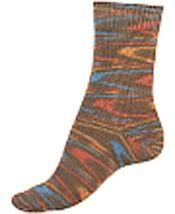 The test pattern sort of sock, might make a scarf. If some idiot hadn't put a short row heel near the top :-}
Thanks Marie for nominating me for the Rockin Girl Blogger. I love the picot edge. You go girl. I hope the move is going smoothly.